Covid-19: Fleming Fulton school pupils to attend part-time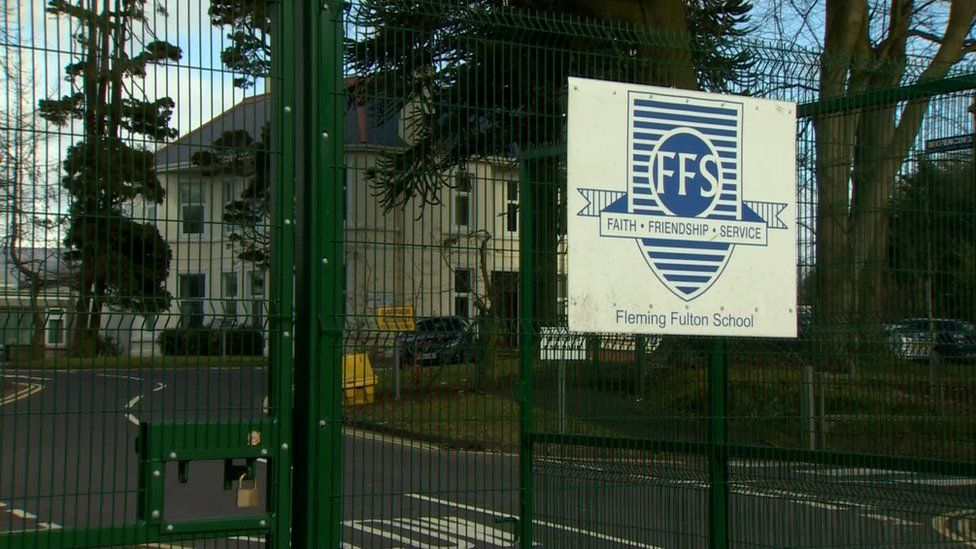 A Belfast special school has said its pupils can only attend part-time for two days a week from Monday.
Fleming Fulton school in south Belfast has more than 100 pupils with a range of special educational needs (SEN).
Principal Karen Hancock told parents of pupils the decision had been taken "in light of the increasing numbers of positive cases".
Education Minister Peter Weir decided on 5 January that special schools should remain open for all pupils.
In a letter to parents, Ms Hancock said additional guidance from the Department of Education (DE) had not been received by the school
since that decision.
"In light of the increasing numbers of positive cases and lack of additional guidance to mitigate risk from Monday 18 January 2021,
I am changing provision to a blend of pupils attending school for two days on either a Monday and Tuesday or a Thursday and Friday,"
she said.
"Wednesday will be a day for staff to prepare for both class and home learning."
"This new arrangement will help ensure that all pupils have equal access to provision - it is currently not possible for teachers to carry
out face-to-face teaching as well as provide home learning activities.
"I am very aware of anxiety of both staff and pupils returning to school, including travel on EA buses and numbers of people in the school
building.
"I believe that this will help by reducing the numbers of pupils throughout classes, reduce numbers using EA transport and help ensure
consistency and continuity."
Ms Hancock told parents the arrangements would be reviewed by governors on Tuesday. 2 February.
"If schools receive additional guidance from the minister to mitigate risk, combined with a reduction in Covid-19 cases within our
communities, I hope to be able to return to full-time provision as soon as it is safe to do so," she wrote.
Follow interesting news here only. :
ทางเข้า slotxo