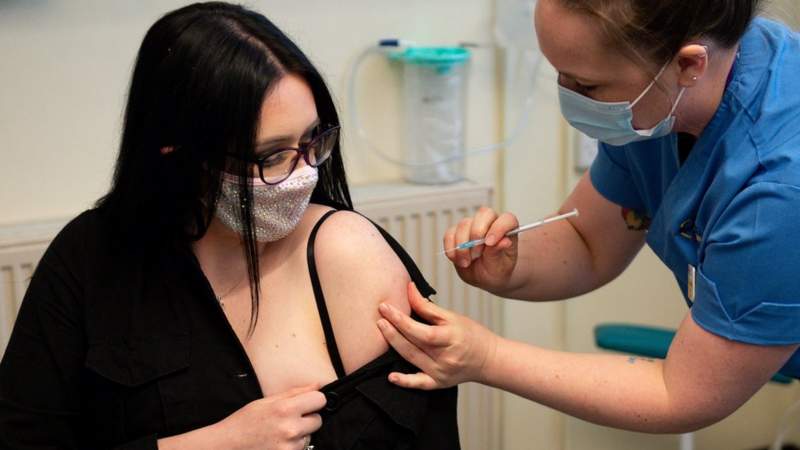 The UK has begun the rollout of its third coronavirus vaccine, the Moderna jab, in Wales.
Unpaid carer Elle Taylor was the first to receive the vaccine and described feeling "very excited and happy".
In England, small business minister Paul Scully said the vaccine would be rolled out "in the next few days".
Under-30s in the UK are to be offered an alternative to the AstraZeneca vaccine because of concerns about a link between it and rare blood clots.
It comes after a review by the drugs regulator Medicines and Healthcare products Regulatory Agency (MHRA) which found, by the end of March, 79 people in the UK suffered rare blood clots after vaccination - 19 of whom died.
The side-effects are however, extremely rare and the vaccine's effectiveness was proven, the MHRA said.
European regulators have also concluded that "unusual blood clots with low blood platelets should be listed as very rare side effects" of the Oxford-AstraZeneca vaccine.
"The reported combination of blood clots and low blood platelets is very rare, and the overall benefits of the vaccine in preventing Covid-19 outweigh the risks of side effects," the European Medicines Agency (EMA) said.
The Welsh government said it was "considering the details" of the announcement, but did not "envisage a delay to the roll-out of our vaccine programme in Wales".
When will I get my Covid jab?
The vaccines that work - and the others on the way
Miss Taylor, from Ammanford, received the first Moderna jab at the Glangwili Hospital in Carmarthen.
Speaking afterwards the 24-year-old, who works at a further education college, said: "I'm very excited and very happy.
"I'm an unpaid carer for my grandmother so it is very important to me that I get it, so I can care for her properly and safely.
"My grandmother has had her first dose and she is going for her second dose on Saturday."
Miss Taylor said she only found out on Tuesday evening that she was to be the first in the UK to receive the jab by Moderna, an American company.
slot