Six men fined over Yate rave banned by Covid tiers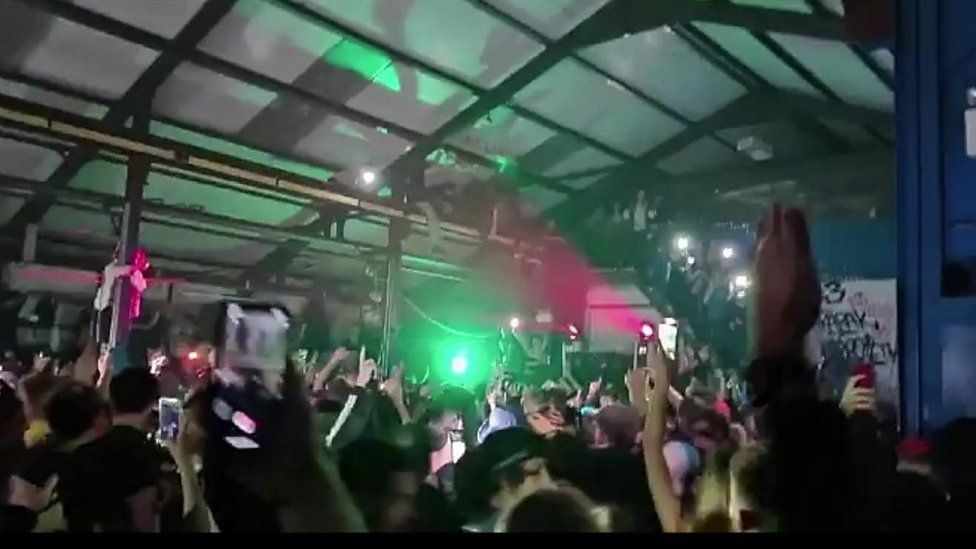 Six men who attended an illegal Halloween rave have been fined a combined total of more than £3,000.
Up to 700 people are thought to have attended the rave on an industrial estate in Yate, near Bristol, lasting for more than 13 hours on
31 October.
At the time the country was in a Covid tier system and gatherings of more than six people were banned.
District Judge Lynne Matthews described their actions as "selfish", and said they risked spreading coronavirus.
'Bit of a dance'
Bristol Magistrates Court heard how one of the defendants, Josh Samson, had shouted expletives at a police officer who was holding
a baton and goaded the officer to hit him.
The court was also told another defendant, Oliver Eavis, was seen lunging towards an officer and that police had claimed another man,
George Parsons, had kicked and punched police shields.
Parsons' defence barrister said while he admitted the charge of failing to leave the site, he did not accept that he had used any violence.
'Prolonged lockdown'
"There was a risk if you didn't have the virus you might have picked it up. There was a risk you might have spread it to others.
"You perhaps wanted a taste of freedom. Everybody is tired of lockdown and would like life to return to some form of normality.
"Your actions may have contributed to a prolonged lockdown. Your desire for freedom risked others losing theirs. It was just a risk you
were all prepared to take for your own brief selfish gratification."
Read more about the story here. :
เล่นสล็อต